Millennium 3 is the era of global integration in all aspects to open the General Assembly Longhua reconstruction contracts; cultivation which must also integrate different reunification, which the Catholic religion or Tam Tam called Quartet teachers attributed.
+ In the Cao Dai Church when it comes Tam Quy Nguyen is always accompanied by the First Five Advanced Recovery. Compiled from the Cao Dai books:
– "Three religions attributed" only three religions: Confucianism (Buu Son Ky Huong) *, Taoism and Taoism (Cao Dai) * and Buddhism back to the original source.
– "Five expenditures" are five branches of the University Religion: Nhon Dao, Shen Dao, Noble, Dao Tien Dao and Buddha; "Best for" ie unified into one.
+ Four teachers attributed: Buu Son Ky Huong later stage 2 is divided into Hieu Nghia Hoa Hao and so four religions: Buddhist, Catholic Cao Dai and Hoa Hao, Hieu Nghia integration as one called Four teachers provided original.
—-
There are three things worth noting are:
– In Beijing Ceremony, Confucius wrote about universal society: "… .. the galaxy is in general, … Air … people on the bottom upon, the gateway does not need to play. It was at the same age."
– Noun Society Buddha Longhua by Doan Minh Huyen Xi'an Mr. Buu Son Ky Huong yet.
– Three Religions Quy Nguyen Cao Dai initiated by.
Three concepts are all accepted.
—-
CONTENTS OF NATURAL EXPRESS IS:
– Thong Nhut philosophy.
– Thong Nhut cultivation purpose.
– Thong Nhut cultivation ways.
– Thong Nhut church icon.
PART 1: reunification PHILOSOPHY :
Business services Everything in the universe says no object itself is not one of Tai Chi, Tai Chi was born bisexual Comfort (born yin and yang), Heaven and Earth tied together into one extremes (in other words in the Solar Us heaven and on earth is only 1 bond), in which thousands of people and things exist in one principle, can not be divided (including Economics, Politics, Culture, Society), religious reunification training must also do one, undivided many religions with many different religious way as today.
Mandate period cultivation reunification 3 are:
– Dear God – You Place – Chiang Buddha – Phoenix nest, ants Sale – Tu Tam, Train Spirit, Body .
a / – Dear God : Is that all religions are clear.
b / – You Location : This does not have the same consistency Nhut, some religions determined practitioners to Heaven, Nirvana, the Western Paradise, leaving the Earth is not your address, the left heart of heaven; Heaven, the Father, the Mother Earth, to cherish loving Mother Earth as a result, not only did not give up that should contribute to the protection and renovation of the current environment …
c / – Buddhist Thought : The religious sect of Buddhism are clear.
d / – Phoenix nest, ants Date : Millennium 3 convent house reunification, no renunciation, no unworldly, each person should have two obligations:
– The family is the cell of society; Take care Grandparents, Parents is the noble tradition of thousands of Asians, not aging parents sent to nursing homes, denying any obligation to their parents and grandparents, or glass part not fulfilled their obligations to parents and grandparents, with his wife and children, so it comes to religious life help?
– We have a responsibility to build peace and happiness happy family prosperity.
Each person living on Earth 2 is the biggest happiness: family peace and happiness, good health is not sick. That everyone wants, but can not decide itself, must know how to apply God's relationships, new things people do not know, but we absolutely can adjust.
In realms that humans suffer the 3 rules the universe with 7 contacts are:
– The Law of Yin yang (also 1 relationship).
– The Law of the Five Elements (as well as 1 relationship).
– Rule Relations Thien Nhan.
Yin and Yang Wu Xing everyone knows, even in God's relationship with new ones that have yet to know, it rest 5 clues are:
+ O God specified number.
+ God's way (it is extremely important that people do not know).
+ Orientation homes.
+ Age of the couple relationship.
+ Causality (including cultivation).
In addition to transportation of God (through the year, month, date, time of birth horoscope capture subjects) is unable to change, the relationship remaining humans can manually adjust; in which cause and effect relationships (including cultivation) is entirely self-created man, and 4 above relationship is the law of God, Tu is to strictly follow the laws of heaven and earth, skipping is wrong, but must plan seriously, especially the relationship of 2.3 (God's ways and directions of housing) is very important, it creates a peaceful and happy, healthy premise to cultivate the ability to achieve good results (direct from the Fund has set out specific meaning).
e / – Tu Tam, Train Spirit, Body:
– About Tu Tam: All religions have a full idea of ​​Tu Tam, the content of the means to feed themselves, a port, usually 1 basic Ngu in merit. On the other hand helps healing Charity also has merit life, should maintain and develop both in the Board of Representatives means, and in healing institutions (hospitals) upcoming free treatment for the whole society and not the current charges.
Important practice is indispensable in the way of the General Council is essential, but should not be overemphasized, because cultivation is the human self, while all around us is the rule of the universe break away;aware that "Blessed Lord reached any assault," "Cultivation will be some improvement, he will be now." Who have faith will overcome all, from that view the practice creates good faith is the leading factor ignore other factors in life.Ethical practice creates crucial need in the evolution of mankind; spiritual practice to make good moral disaster mitigation, but no improvement was the number and did not pass completely crash.
The basic principle: God is above all law, virtuous monk or higher must also strictly follow the calm, spiritual or moral offense of heaven is greater that victims; thus including the medical and hospital establishments healing healing of religious charities need guidance combined with good planning all aspects for everyone, including the watch edited home name and direction new doors and create disease cure peace in prosperity to the public.
– Spirit Train:
Directed sublime than religious Regulation Train That is god, no matter the contract's first and peaked religions; 2 separate religion Cao Dai and Hoa Hao has many levels is associated with superior, when they asked to be on the exact guidelines for the essential one, it had a nice, but just the is relying, not create something solid for us; so in addition to maintaining existing ones, to raise one new step is enlightenment wisdom created a solid foundation for themselves, such as Nguyen Binh Khiem tool ever.
– Body :
Body is two sides of the issue of cultivation (cultivating the satyr, new sound is properly), almost all religions are not standing at attention, shining example of Nguyen Binh Khiem specific date back more than 400 lived to the age of 94 years during which people are not life more than 50 years old. Millennium Nottradamus said 3 people lived hundreds of years old, the new 200 is just stepping through adolescence, so the first decade of this 21st century everyone must strive to cultivate life that 120 healthy older , lucid, not pass the age of 100 is not reached.
How to Train god, see 2 articles Body Meditation and The Life god rose, lily declaration.
PART 2: THE PURPOSE cultivation reunification :
The only true way is practicing meditation, the Buddhist teachings true to his training into higher order present life;with the ultimate goal is two:
– Improve your edit transformed from human filth ordinary low level into the high level of human perfection of human life . Open brings wisdom, common lens Location Thien, thorough past and future as Confucius, Not-tra-dam-mus, Nguyen Binh Khiem ….
– Moderate physical Train health promotion longevity .
Achieving results is the Church in the world. In period 3 billion cultivator if most results on the Earth is turning into Eden on Earth and not have to go far away to find Heaven at all.
So dark matter is important to the religious reunification into one, identified path very standardized, consistent with the arguments of Heaven and earth.
PART 3: reunification to cultivate :
In the "Three quad teachers attributed" all religions become one, tectonic path  regulation means  (18 + 13 =歸義31).
a / – On the way : there are two meanings:
– The meaning  is gathered that both, practice the right way, the main religion.
–  The meaning  is not sectarian religious as before, but with the spirit of religious reunification, reunification teacher salaries. Regulation means an organization of that committee included representatives knowledgeable masters levels teachings guide us human cultivation.
b / – Thien way:  No. 31 Tri Dong triumphant :
There is solid in all the will and power phase come every challenge, making a great honor to the cause, transmission attained fame, wealth, talent commander, more virtuous glory sung.
Thien Nhan good way that with proper adjustment is to cultivate a solid prerequisite for rapid progress, shaping the cultivation of humanity in the third millennium.
CONTENTS MAY cultivating mind :
I.- UNDERSTANDING:
Mind  Quartet grace, Three diamonds, normally five , maintain strict  precepts, boy, can mental training  is the basic content of the hermit who lived  Regulation Nghia ( The content on Regulation see where all means).
II.- MEDITATION:
The ultimate goal of true religion religious consciousness is enlightenment, raising it higher perfection of human life.
Regulation means religious purification house need to "Tune in to the deepest places of the soul". Is the harmony between mind and brain (physical combination – spirit) in practice, in order to wash away the heart to the mind is serene, lucid create the harmony of yin and yang to receive comprehensive uy god is spirit to develop wisdom, enlightenment consciousness.
a / – To achieve such results, the addition to "wash the mind" is the practice of meditation, two elements must be parallel.
Meditation for two purposes:
– Enhancing health and longevity.
– Open brings wisdom.
b / – Cultivating is most important and Meditation Meditation is the most important god Dinh. See 2 post Meditation and The Life god rose, lily opening in Improving Global website.
SECTION 4: reunification CHURCH SYMBOLS :
Cathedral Ceilings panels used symbols that add swastika (卍) yellow.
—
Van 卍6 Muon good faith.
—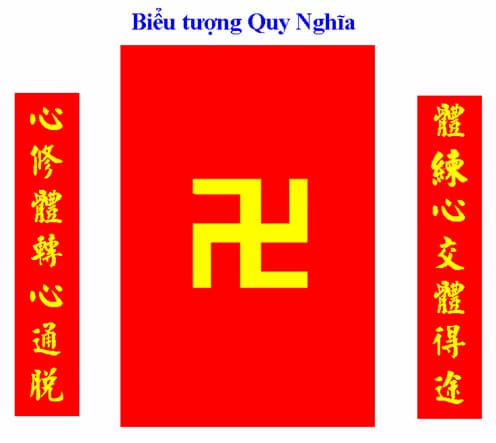 Ceilings that red represents the solar energy make up the life of the universe and the movement of thousands of people face. With the red body is enthusiastic just feed the body operates both air concept, enthusiastic, emotional, moral man.
Swastika Yellow: Yellow is Earth represents the Earth, 卍 swastika is all good faith.
Two red – yellow relatively birth (birth Mars Saturn) Tran things red and yellow swastika 卍 proclaim God represents all good virtues to cultivate humanity on Earth.
In addition to decorations adorned the meaning and definition of the altar solemn one can hang 2 sides 2 couplets column:
Retreat center that moved clearinghouse escape
How prime can communicate mental map
卍  As a character, but when using the word  卍  (yellow) compound in which it became Chen is one symbol all good faith, as Buddhism is often mounted on the roof of the temple (卍have to write properly, do not misspell as one of the temple, which the Nazis misused that eventually decline).
Like 十 is Han: No. 10, but word 十 (red) attached to the vehicle in white or people do not think Cross No. 10, but only think healthcare icon save people.
Regulation means practicing at home, in the framework of salary teachers reunification, no temple, each family must unhesitatingly set up the altar, just each area (such as population groups) where representatives for meeting people people talk, about water, about cultivation, where gold swastika hanging Tran things like national altar at work so, no incense, no donations, no bell and gong, prostrations and prayers …
We advise people to proceed, religious believers go to cultivate proper training and especially the Spirit and Body: to improve the health and extend the life of wisdom, enlightenment, people from low-level variable Level higher even in the present life, the Church in the world step by step; Earth turns into heaven on earth.
Everyone has high virtue, extensive knowledge as a condition for human society in Longhua Association to life in peace and happiness, prosperity, eternal happiness.
—-
* Cao Dai practice the old Thai Thuong Quan (Lao Tzu):
Dao Duc Thai Supreme Patriarch's Team Director Mr Tien, Vo Dinh reign to the Shang (1324 BC), Germany Thai Thuong Dao The new baby is Laozi ceiling down.
Buu Son Ky Huong practicing Confucianism also called islets with basic teachings are the Three Cang, Wuchang.