The astronomers said "meteorite" is based on two basis:
-The stellar orbits its thrown.
-As the stellar debris collide to create, They also say added that the "asteroid hitting the Earth"!
Yijing says "Know the truth of a minimum can also know the truth of  extremes (太極) as well as everything in life.
Two reasons led to identify of the asteroid that astronomers  related things the Yijing, but only half-hearted.
1/-Ho said "Meteors are caused by its orbiting stellar dislodged"  is based on the rotation of Earth around him, therefore identify the stars rotation in the universe around us; that's right, objects in the universe does not stand still (stand still is dead animals); but then again is ….
They say the stars go made debris dislodged, is different from the Earth turns!
The Earth turns  that all things are being sucked into strong and not have to fly; attraction of Earth make every object in to.
Explained as follows:
a /-Yijing also said "absorption in the yin, spread out the yang ";
LAW absorb the energy metabolism: " Move Objects to absorb and metabolize energy ",  the absorption was also included in objects in the absorption:
Plug edge flag after car window, flag before turning tail guided into the car; piece of paper thrown out the window it always flies back into the car, prove attractive force things into the car.
Earth is very large electric power  from across north to southern
as "Wires" huge:  (40 076 km circumference), are not pure compounds, but also place strong electromagnetic force:  Yang charged clouds; lightning hit somewhere also cause death; strong electromagnetic forces that not only attractive magnetic, optical, hot Sun, that it is sucking in all subjects.
-In a universe is  yang of this Star, that is the yin of the other Star,  and follow a trajectory firmly, be determined by its yang Star (see the yin yang relativity in the Section M: Tide).
The space we live in is 9 storey Sun.
Our Sun we is:
Sun 9th yang of Earth,  which is yin of Sun 8th.
Sun 8th is Yang of Sun 9th, which is yin of Sun 7th …
Due to her face 2 that:
Each Sun is Proton (Yang) have an electron (yin) turning around; and it is  electron (yin) turning around Proton (Yang) other.
All with the absorption of all objects in the; unified global principles that, Star turning without the splinters out.
2/-Meteorites by collision between the Star:
a / – Yijing says: Tai Chi (太极)  born Both Instrument, Both Instrument born Four Images, Four Images born Eight hexagram (8 trigrams hexagram is also the 8 directions).
Solar system (the sun we live have Eight planets including: Earth, Star Gold, Star Wood, Water Star, Star Fire, Star Uranus, Neptune Star (Star Pluto); each planet occupies a hexagram, the point between each planet With the point between the Sun formed a 45 degree. And each planet: have Moon as a satellite, as the Earth with the Moon.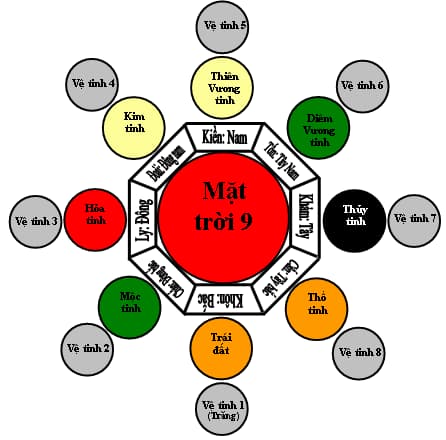 Yijing says " Equalization is the immutable law of Yijing":
Each the Sun have 8 the Sun other made satellites (standing at 8 hexagram) surrounded; this arrangement is absolute balance,  can not add or remove.
b / – The rhythmic movement synchronized together:
-In our solar system Sun went on zodiac  each year in one round, through the points: spring equinox, summer solstice, Autumn equinox, winter solstice create 4 season climate, Earth goes 1 round its orbit 365 days 1/4;
Moon went around the Earth every month 1 round 29.53058 days  = 29 days 44 minutes 28 seconds,  for every yin to 16 calendar the full moon. In which the Sun moves an arc segment; the Earth and Moon  moves an arc segment corresponding.
The 9 storey Sun with billions Star, but all rhythmic synchronous operation like so:
1st Sun of western west
2nd Sun revolves about east
3rd Sun of western west
Sun 4th rotation of east
5th Sun of western west
Sun 6th veer east
Sun 7th of western west
Sun 8th rotation of east
Sun 9th of western west
Earth (and other planets) rotate in east
The Moon revolves about the west.
Also such arrangement until the sun first,  all fit together as the gears  in such a plant. The arrangement was tight,  balance each other  no more and no less; only difference is an imbalance; therefore can not be "asteroid" separate operation for haphazard cause another Star; of course there is no collision between the various Star create meteorites.
People do not have to worry about "Meteors".
————–
Improving global Website besides using the I Ching illuminate the same period abstruse laws of the universe, as a basis for improving environmental and social life are much disturbed, restore stability in all aspects to humanity; we also have programs see feng shui combined view name, brand, alias, pseudonym … a new content and profound, the specific help people aimed at improving specific circumstances, bring peace and happiness, prosperity for all families; please carefully review the section  "View Name, feng shui" where the home page, under article have email.
All your requirements our interpretation, specific guidance which is not a sent currency previously.
Read more :