Trees suck carbon dioxide – have, or not release oxygen?
It has been suggested that trees absorb carbon dioxide, release oxygen. To test, we do two experiments:
Experiment 1:
Bring two trees grown under the same conditions in the same pots:
a – A potted trees to the steam valve – go not about.
b/- A potted trees to the steam valve – about not go.
After a period of testing, we have:
With pots (a) – oxygen and carbon dioxide are both reduced, the long term – oxygen no longer, the tree will die.
With pots b: carbon reduction, increased oxygen – in pots oxygen more than outside.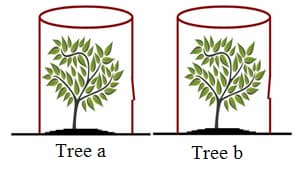 Experiment 2:
Take the little garden, between where there are no trees – and in a deep forest – each place a little air of experience we will provide:
The air in the little garden trees in both clean and more oxygen; in the jungle at Oxygen less than all – as evidenced by the people who live in this barren, the weak, sick, toxic deeper forest.
Pots b in Experiment 1: reduction of carbon dioxide, oxygen was increased more; and oxygen in pots more the natural environment, or in the little garden trees in
Experiment 2: the more oxygen all.
The reason is due to side inhaled dioxide (people was known), trees collect oxygen to survive, and not release oxygen as people was mistaken; expression:
With pots (a) – Oxygen and carbon dioxide are reduced long term Oxygen will end the tree die – in the jungle is the lower oxygen than all, and pots B: carbon reduction the increase in oxygen, oxygen in pots over the exterior.
Special air in the small garden trees oxygen more where there are no trees and deep forest because In parallel with gather Partial breathe oxygen of life, the trees also collect carbon dioxide – (goal) to collect carbon dioxide we focus a large amount outside air – collect the carbon dioxide remains more of Oxygene longer necessary casting the Number That's life – Trees do not release oxygen.

Recently, the French oceanographer Cousteaux found seabed that more oxygen on surface sea as was clear evidence of this, but oceanographers suggest that oxygen caused by a micro-organism is born yet another mistake! I put the problem is why lava inside spray lands at high temperature (more energy), and fertile land than terrestrial crust?
Said tree are plants that produce oxygen, properly thought highly of the importance of trees; but there is a lowering of its role; By factory just absorbed and released around there, narrow sphere of influence; but in reality the role of big trees more, it absorbs carbon dioxide to clean the spot and forward dioxide into the earth's center, biochemical oxygen supply for the whole life of the earth, the sea, on the surface earth's surface, but the chain is important for the movement of the earth on its orbit (will clearly analyze the next section).
Read more :